VONSTRATH ALEXIA (AI)
MULTI V-RATED
BREED SURVEY TEST~ PASS
JUDGE: ANTON SPINDLER (GMY)
HERDING INSTINCT TEST CERTIFICATE (HIC) PASS
JUDGE: STEPH GIBSON, WESTERN AUSTRALIA
JLPP DNA PENDING UK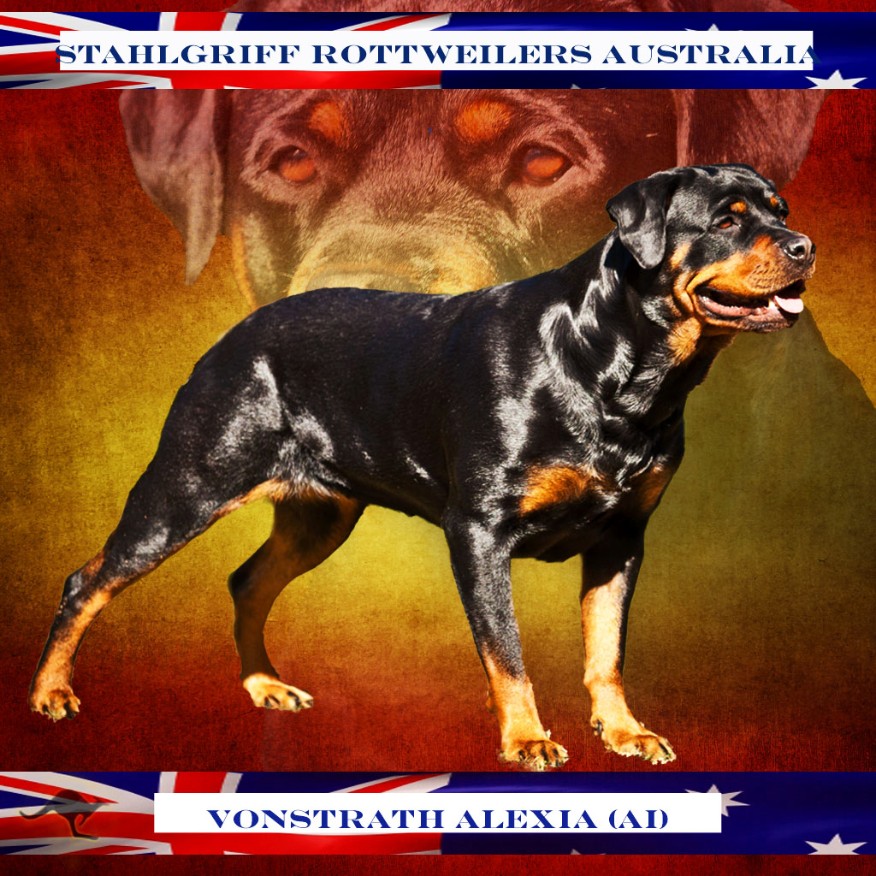 SIRE: UNKAS VOM HAUSE NEUBRAND (Gmy) BH SchH/VPG III
(Deutscher Meister VPG 2004 and IFR Protection World Champion 2005)
DAM: VONZENNITH EILKA
(Multi V-Rated)
Breeder: Dennis Gatehouse, South Australia


DNA PROFILED
SOCIAL, SELF-ASSURED, DRIVEN, ATHLETIC, PROTECTOR
Alexia's rare pedigree is evidence of "proven" rigorous working ability, & mental stability coupled with many international & World Champion conformation winners within her pedigree .
Her sire Unkas (now deceased) attained Deutscher Meister VPG 2004 and IFR Protection World Champion 2005.
Her dam Eilka passed the breed survey under ADRK breed specialist Werner Walter (Gmy), 2009. Eilka's pedigree boasts "proven" working ability - the hallmarks of the Rottweiler character.
Working, titled and awarded Danish Police Dog's appear within 5 generations of Alexia's pedigree.
Vonstrath Alexia is the only current female certified breeding progeny of Unkas vom Hause Neubrand in Australia.

Vonstrath Alexia has had some training by a retired police dog trainer and has ongoing obedience and drive training.
Alexia is genetically engineered for hard work. She is mentally stable and bomb proof with an inherent high level of sociability for modern family life.
Working Rottweilers within 5 gen of her pedigree:
15 Korung
37 IPO III
5 Deutscher Meister Champions
2 Working Police dogs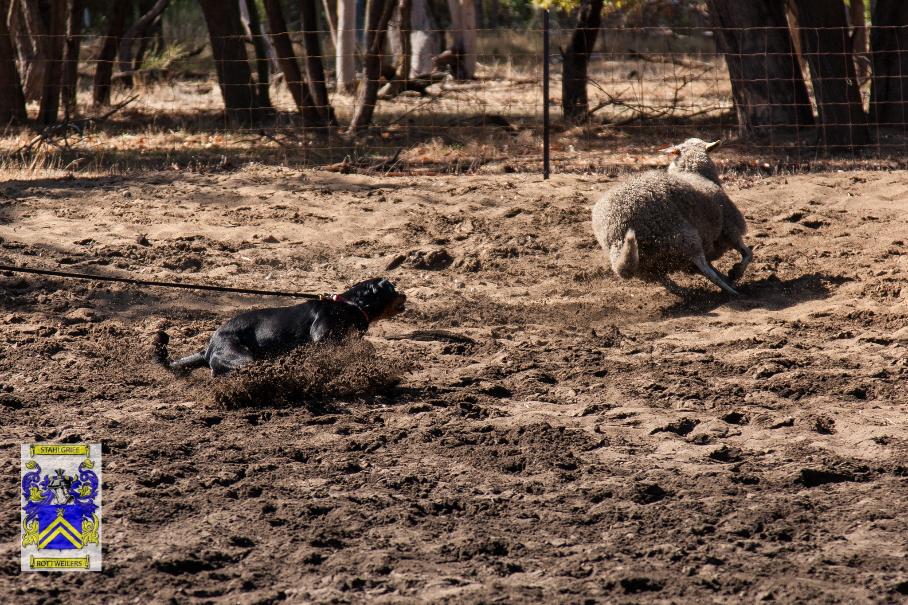 ALL BREEDS HERDING CLUB
APRIL 27TH 2014
HERDING INSTINCT TEST CERTIFICATE (HIC) ~ PASS
JUDGE: STEPH GIBSON, WESTERN AUSTRALIA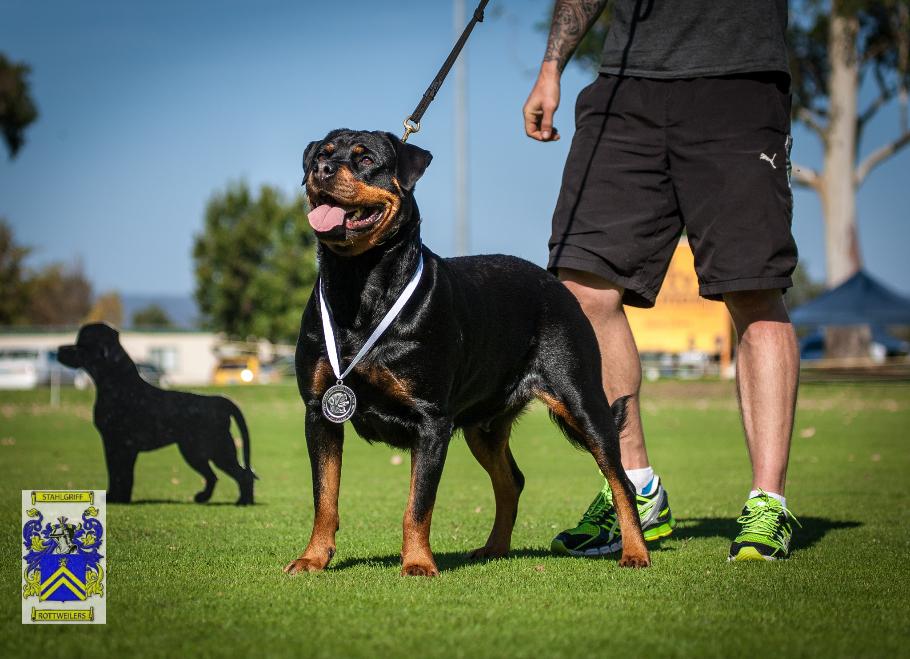 WEST COAST ROTTWEILER SPECIALTY SHOW
APRIL 19TH 2014 (@ 5.5 YRS)
JUDGE: ALISON RAFTIS, AUSTRALIA
RATED: V3 OPEN BITCH
*News Flash*
June 17th 2013
Breed Survey Test ~ Pass
Judge: Herr Anton Spindler (Gmy)
Judges Comment: "This bitch has very very thick nerve"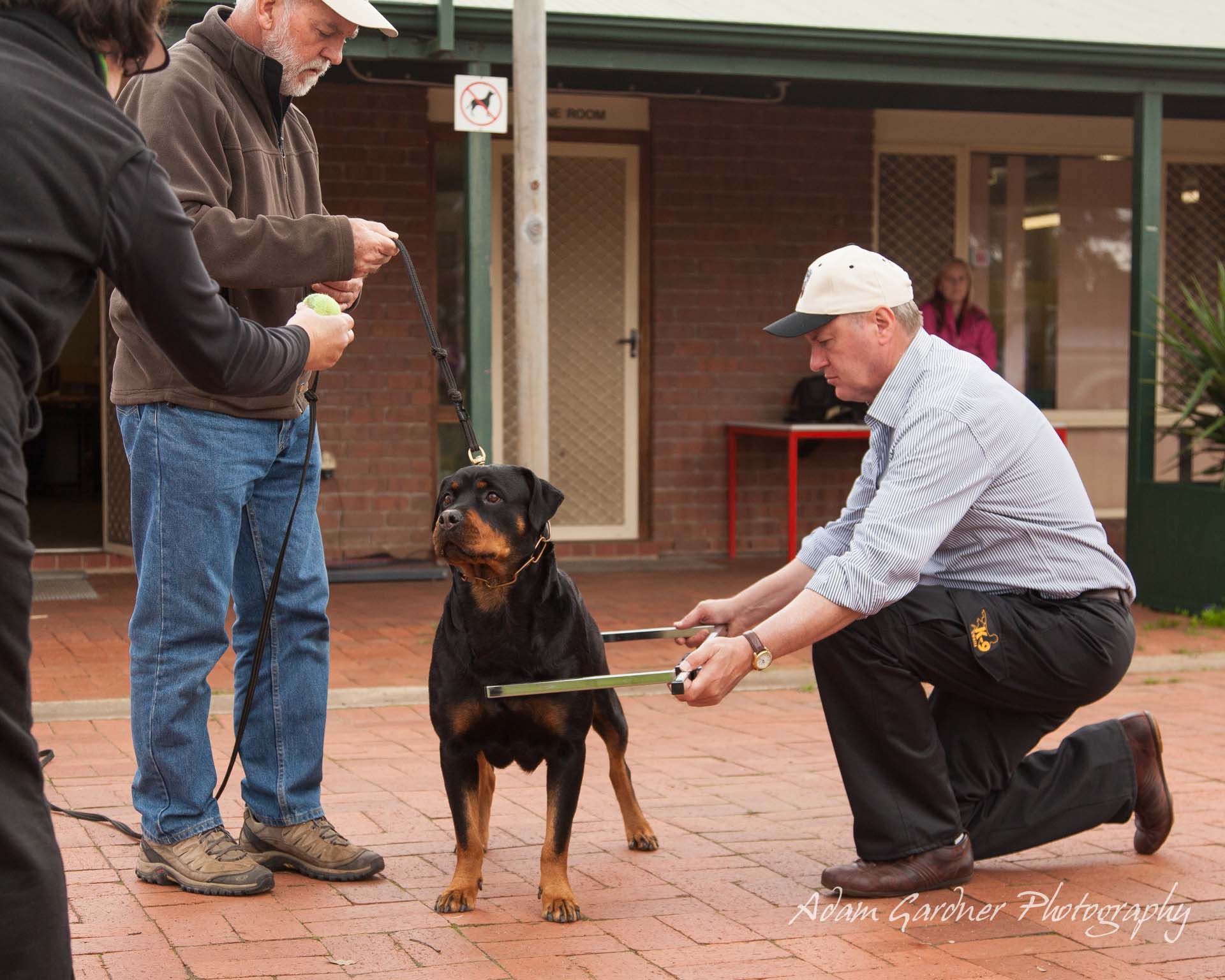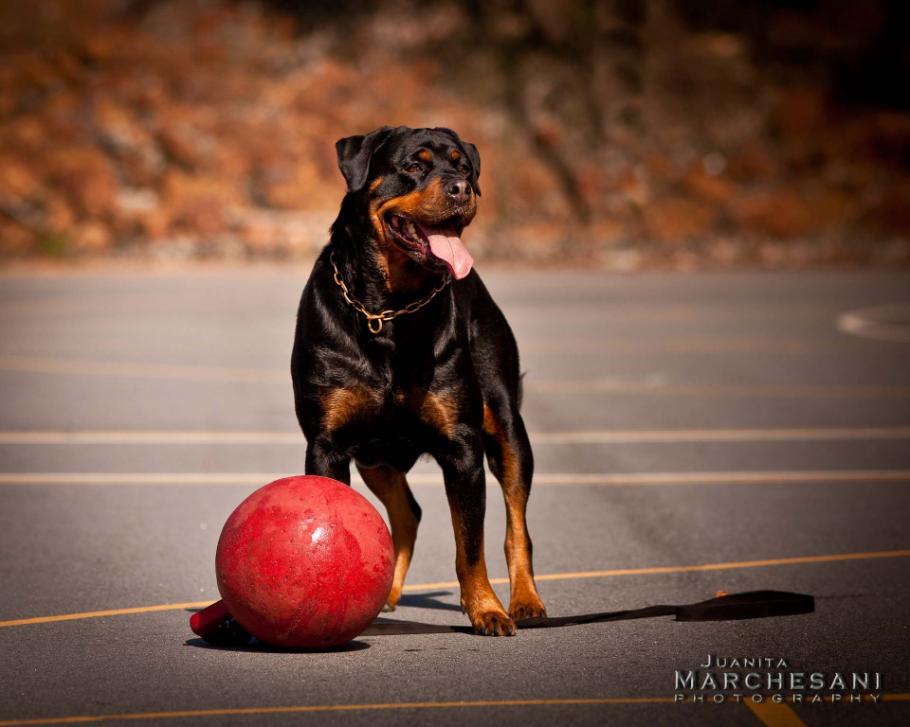 Vonstrath Alexia (AI) Almost 4 yrs old
NEWS FLASH
* West Coast Rottweiler Club of Western Australia*
26/08/2012
Judge: Mr Mick Svaljek
Rated ~ V3 Open Class
Judges comment: "This is my favorite bitch"

WORLD CHAMPIONS APPEARING 4,5,6 IN THE PEDIGREE:
BRANDO VOM HAUSE NEUBRAND (GMY)
BENNO VON DER SCHWARZEN HEIDE (GMY)
ITTA VOM ZIMMERPLATZ (GMY)
Linebreeding - 6 generations