SEE BREEDING PAGE FOR MORE INFO
The price of puppies from state to state varies. WA is isolated and freight of adult dogs, puppies and semen is more expensive.
The cost of a Rottweiler puppy in WA ranges between $4,000-$5,000 (2021).
The WA Labor party has passed a new dog bill Dec 2021, unopposed as the WA public voted in a majority Labor Gov in both houses, there is no opposition. It is mandatory for ALL dogs to be neutured, there are few exemptions, ANKC registered breeders are not expempt. This is going to push the price of ALL Puppies even higher due to demand and lack of supply, only the elite will own a dog, very sad for WA families. Mongrels are fetching $15,000 AUD right now.
Did you know German Conformation and Dogsport Champions fetch 150,000-170,000 Euros Ringside in Germany? They are the Ferrari of the dog world.
Air Freight of dogs and puppies in Australia is very expensive it can add around $1,000 to the cost of a puppy.
Do your research about the breed, they are not for everyone, they are strong, powerful, wilful, destructive as youngsters, higher medical costs due to size, higher food costs for premium foods. Higher training costs, they must have formal training. They need to be insured. They do not do well left outside, they love their family & want to be with them 24/7, they love children.
For the right person they are everything and rarely does an owner change breeds in their lifetime.
Only purchase a Rottweiler from an AUSTRALIAN NATIONAL KENNEL COUNCIL registered breeder.
Do not buy cheap Mutts that look like Rottweilers from back yard breeders.
Ask for the breeders ANKC affilated breeders card before parting with money.
Ring or email the state registering body to verify the registration card
Do not buy from breeders not prepared to refund deposits if they cannot supply a puppy for any reason.
We breed infrequently maybe once per year, we do not keep waiting lists, we do not hold deposits until we have ultrasound confirmation of a litter. Puppies are usually all sold before they are born, procrastination and lack of research will not get you a puppy.
We will only sell to the right homes committed to the breed.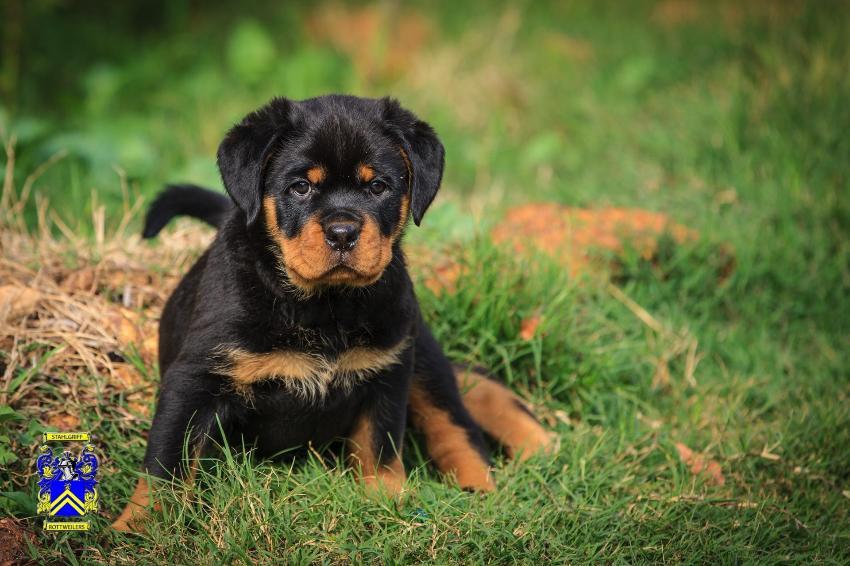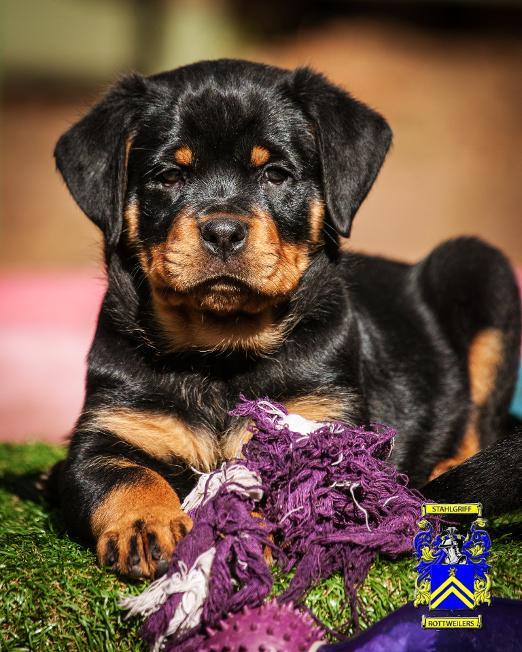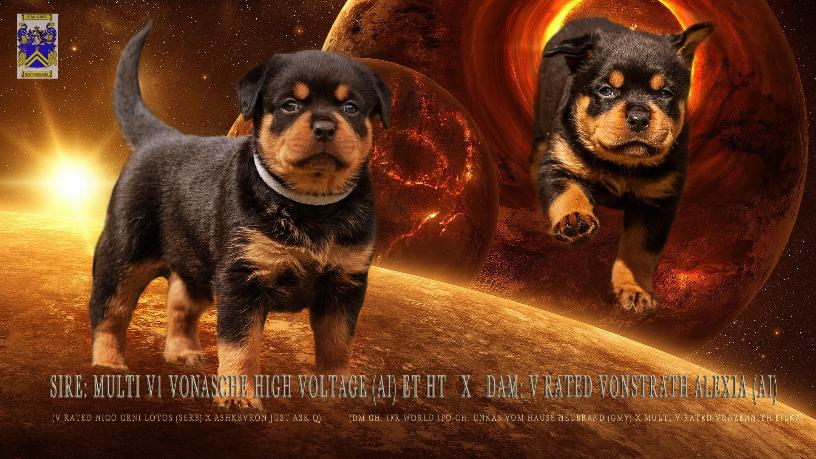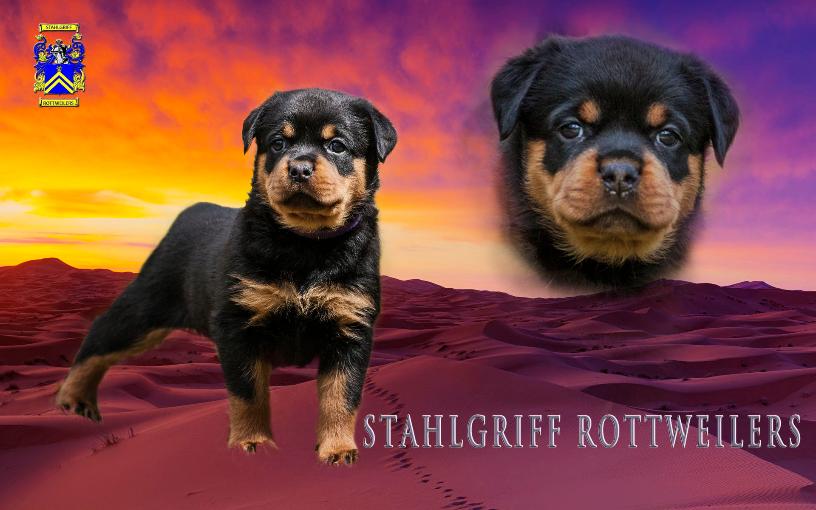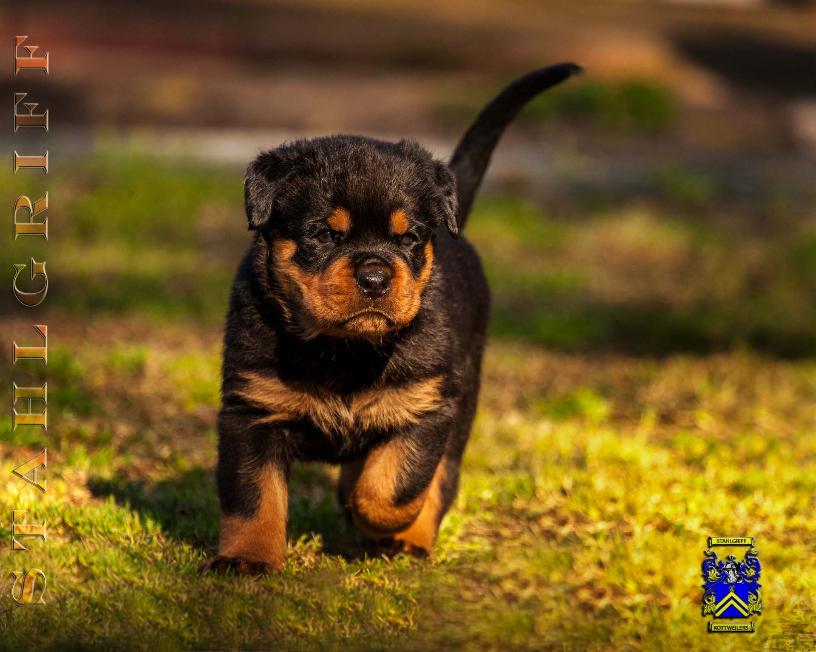 All Puppies are sold on a sales agreement/warranty, pet or show.
Puppies are bred and raised by us on our property & in our home, all puppies sold with:
Registration (Limited) with the Australian National Rottweiler Council (can take up to 10 weeks after puppies are microchipped)
vaccinated
microchipped
wormed
insured for 6 weeks
Vet certified in good health prior to delivery (any existing medical condition found at that time is warranted by us)
Puppy folder, parents pedigree's, health certification and achievements.
Parents Vet certified health guarantees prior to breeding (included in puppy folder)
breeder advice & back up for life
Sold with a 4 kg Royal Canin premium puppy food pack & dietary advice
Puppy pack
given basic training prior to delivery
toilet trained to paper
crate trained
temperament tested & conformation graded at 7 weeks.
given preliminary desensitisation to the environment from birth with some controlled community exposure after first vaccination.
professional training advice & dog club advice.
Boarding/kennelling advice
Owners included in our free training days off site for up to 6 weeks from time of second vaccination TBA (these can be show training, drive building and community socialisation).
Owners with show dogs supported with advice & training.
Show/working Rottweilers achievements will be featured on our website (& photographed by us where possible)
price includes medical care of whelping bitch for 8 weeks.
8 weeks of 24/7 supervision, medical attention, food & supplements.
Free professional photography of puppy by us on request (images fine art processed & handed over to print at owners leisure)