VONELKA CHADWICK (AI)
HD 1:2 Grade 0 ED Grade 0
Dentition: Complete Correct
Height: 65cm (Yvonne Bekker NLD)
HERDING QUALIFIER JUDGE: STEPH GIBSON, WA
ADVANCED
OBEDIENCE CLASS, TRAINING UNDER JUDGE: ROY SMITH, WA
TRACKING TRAINING UNDER JUDGE: LESLIE WATSON, WA
TRACK 1 TRIAL PASS SEPT 2015, JUDGE LESLIE WATSON, WA
JLPP DNA N/N NORMAL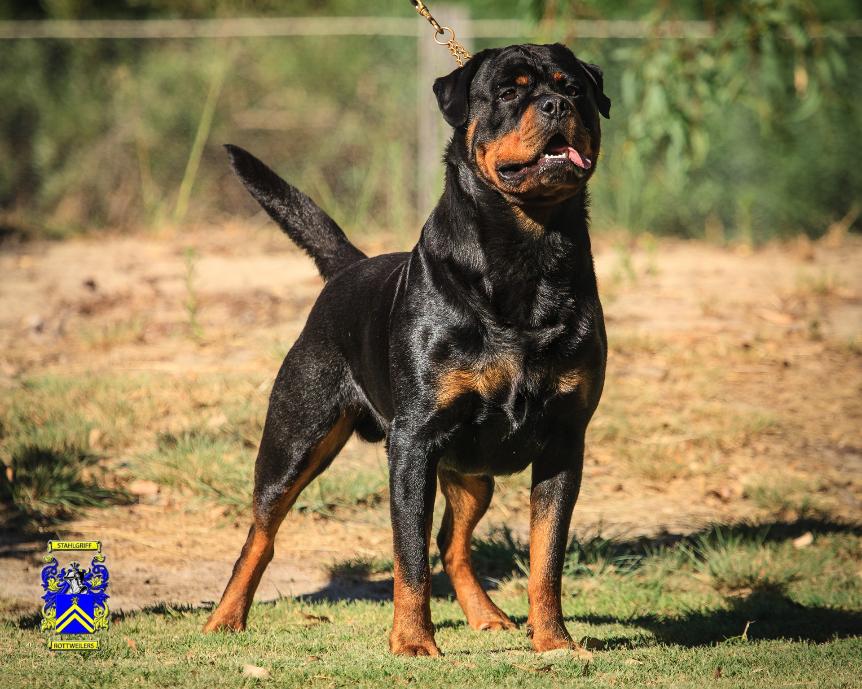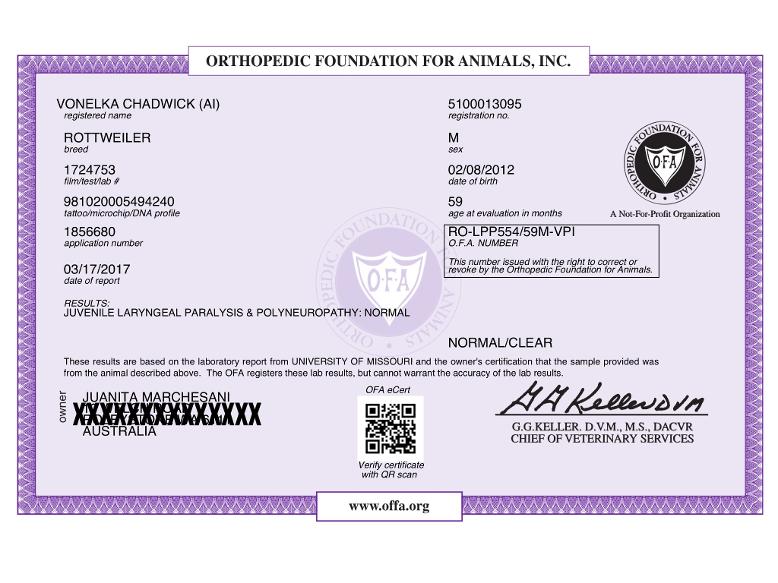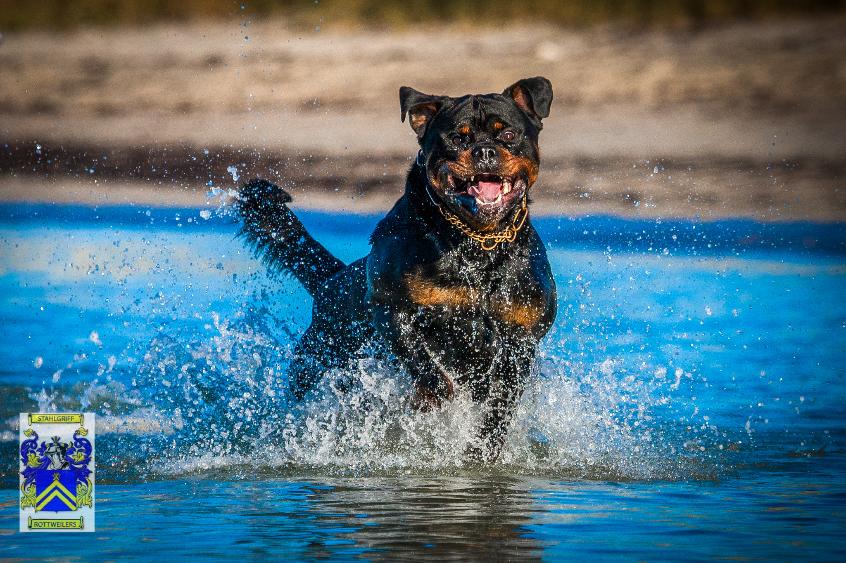 (Vonelka Chadwick @ 20 Mths)
Sire: UNKAS VOM HAUSE NEUBRAND (Gmy) BH SchH/VPG III
(Deutscher Meister VPG 2004 and IFR Protection World Champion 2005)
(Puppy of the Year 2009 and Bitch of the Year 2011, South Australia)
Breeder: Bev Chapman, Vonelka Kennels South Australia
DOB: 08/02/2012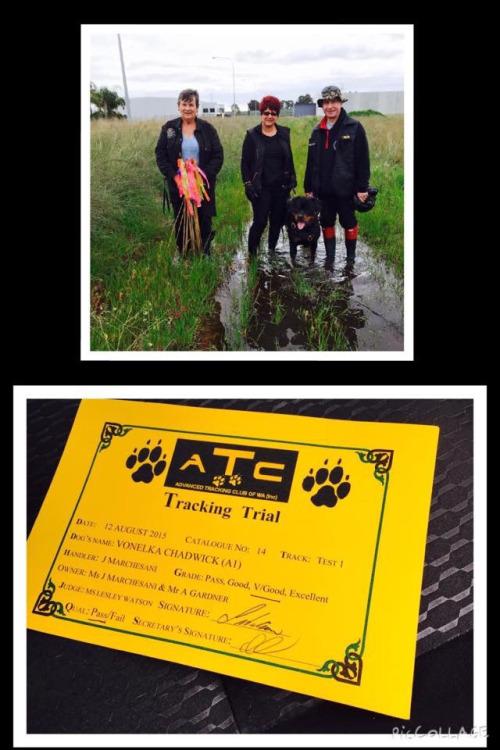 TRACK 1 TRIAL PASS, JUDGE LESLIE WATSON, WA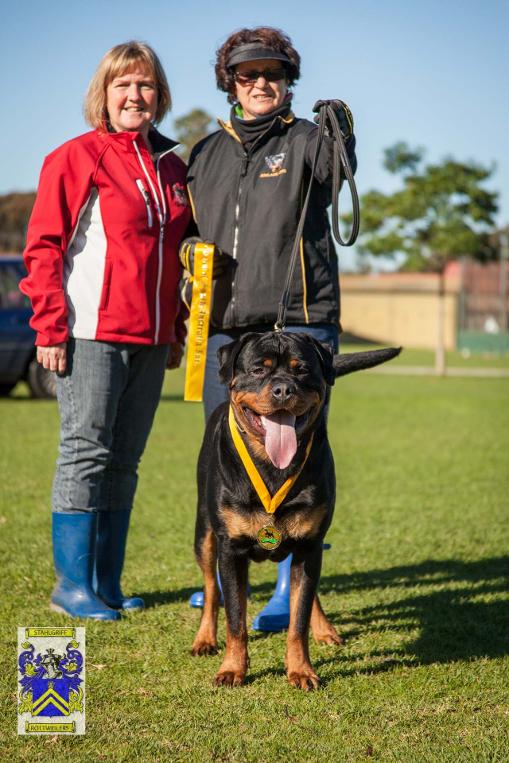 23rd Rottweiler National Championship Show
June 14-17th Adelaide Australia
Vonelka Chadwick (AI)
SG5 (Class of 12)
Selected in Top 3 Heads in Junior Male Class
Judge: Anton Spindler (Gmy)
Chad's pedigree is a combination of some of the best German, Dutch and American Rottweilers to ever hit our shores. His world famous sire needs no introduction, IFR Protection World Champion 2005 & Deutscher Meister VPG Champion 2004 Unkas vom Hause Neubrand. Chadwick was conceived from imported frozen semen which is now in very limited supply worldwide since Unkas's death in 2010. Chadwick is the only NRCA Certified breeding son of UNKAS in Australia.
Chad's Dam Vonelka Maya is an impressive bitch, V 1 Rated, multi class winner and CC pointed, winner of South Australia's Puppy of the year 2009 AND Bitch of the Year 2011. Her sire is none other than the amazing Champion Ludendorf Erik. Her pedigree is a strong line breeding on some of Australia's most influential imported Dutch and American Rottweilers, decendants that are easily recognisable on the peg's around the country.
Chad's pedigree just misses out on a line breeding within 5 generations with the very influential and prepotent International German Champion Furst vom Wolfert Term, sitting at 4:6 within the pedigree. At such a young age Chad is displaying a very handsome head piece, ranked in the top 3 heads in his class, he is the epitome of power and strength Chadwick tackles any job with 1000% drive and enthusiasm.
It was a no brainer to welcome Chad to our home, we have had an excellent experience with his 1/2 sister Vonstrath Alexia. Their shared sire Unkas brings temperament that is second to none, an important quality for the active modern family. We look forward to watching Chad develop into another well balanced ambassador of the breed, following in his 1/2 sister Vonstrath Alexia's footsteps.
Thank you to Bev Chapman of Vonelka Kennels for trusting us with this boy & to Rubin Piña, of Vom Atzlan Kennels California USA for making Unkas's semen available to Australia.
PROGENY
VONSTRATH FOX
Rated VP 4 x 2
8 MTHS OLD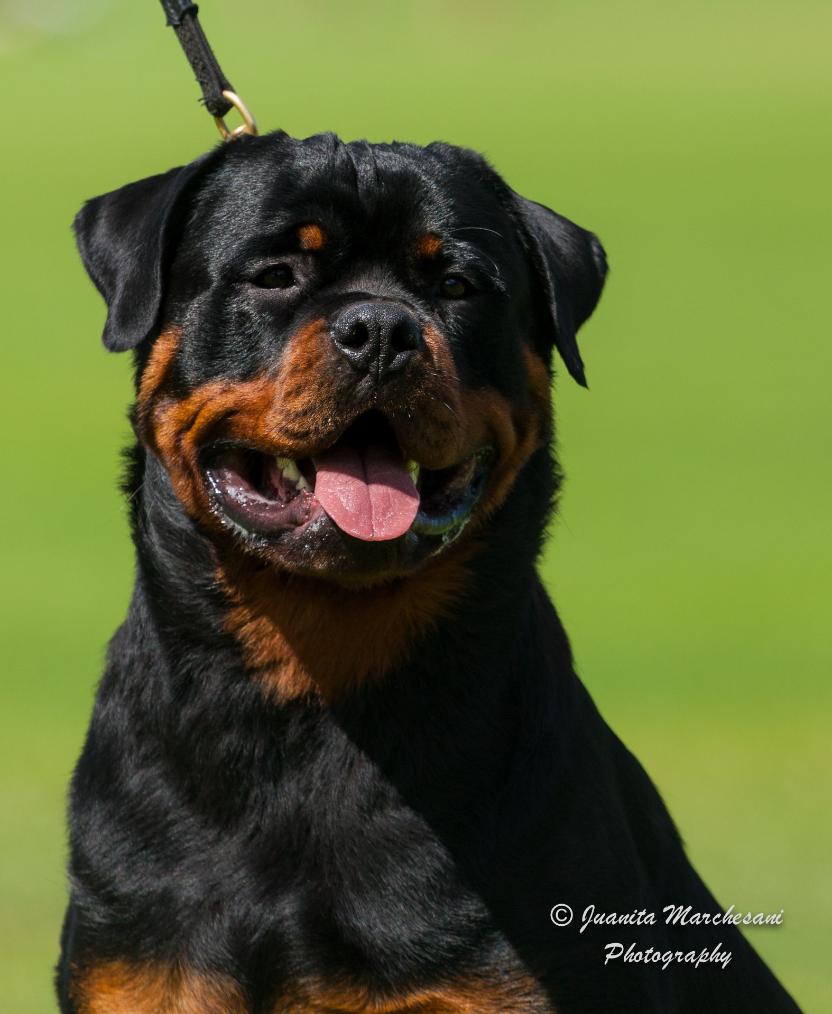 STAHLGRIFF KRAKKA JAX
7 WEEKS OLD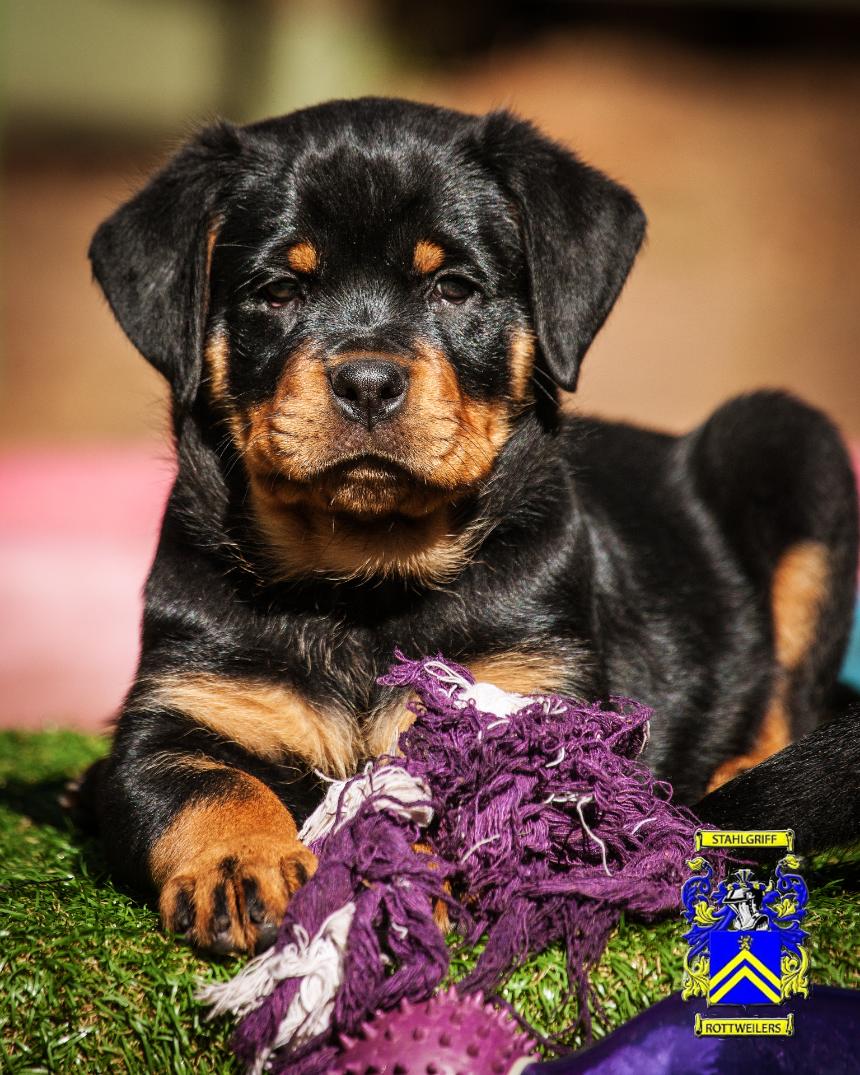 Linebreeding - 6 generations